Support and Partnerships
The wide array of training and networking opportunities our chapter offers are made possible by philanthropic support from our Chapter Partners and Advocates. We offer a number of ways to recognize our supporters to help them increase their visibility and build relationships among AFP DC Chapter members and thousands of associated professionals from not-for-profit organizations throughout the Washington, DC region.
Our sponsorship 'menu' includes a variety of options for increasing exposure levels to help you achieve your marketing objectives. Many of our sponsorships offer additional benefits specific to each program or event.
2021 Partnership Opportunities
As nonprofits have shifted to virtual offices while continuing to raise funds and engage donors during this pandemic, networking opportunities are more important than ever. AFP DC has transformed its sponsorship options to meet today's needs and respond to our members' requests for online content and new ways to stay connected with fundraising colleagues. Our new program begins January 1 and runs through December 31, 2021 and includes FIVE different sponsorship levels with added benefits to provide Chapter Partners better value and recognition throughout the year.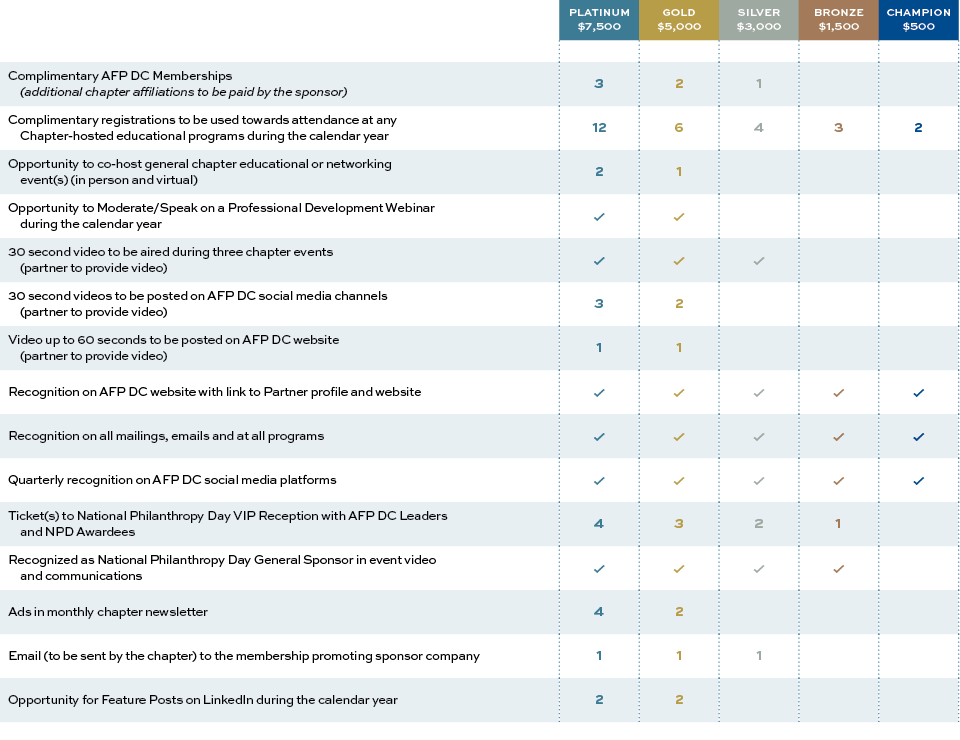 Click here for a downloadable PDF of the 2021 Partner Program.
For more information about AFP DC sponsorship contact: 202.845.7450 | [email protected]