About AFP DC
In order to thrive in today's rapidly changing philanthropic landscape, nonprofit organizations must develop smart and engaging fundraising strategies that leverage new and emerging forms of giving. The Association of Fundraising Professionals Washington, DC Metro Area Chapter (AFP DC) exists to give regional fundraisers the hands-on strategies, tools, and best practices they need to advance their organization's missions and to grow professionally.
Washington, DC is home to more nonprofit organizations per capita than any state in the U.S. However, the long-term success and sustainability of these organizations is largely dependent on the ability of fundraisers to adapt to a changing culture of philanthropy marked by the changing landscape of charitable giving and growing community needs.
AFP DC is the only organization in the Washington, DC metropolitan area committed to the professional development of all fundraisers, regardless of industry or sector. We foster a vibrant philanthropic community through the delivery of cutting-edge educational resources – including our Bridge Integrated Marketing & Fundraising Conference – peer-to-peer learning and engagement opportunities and accreditation training.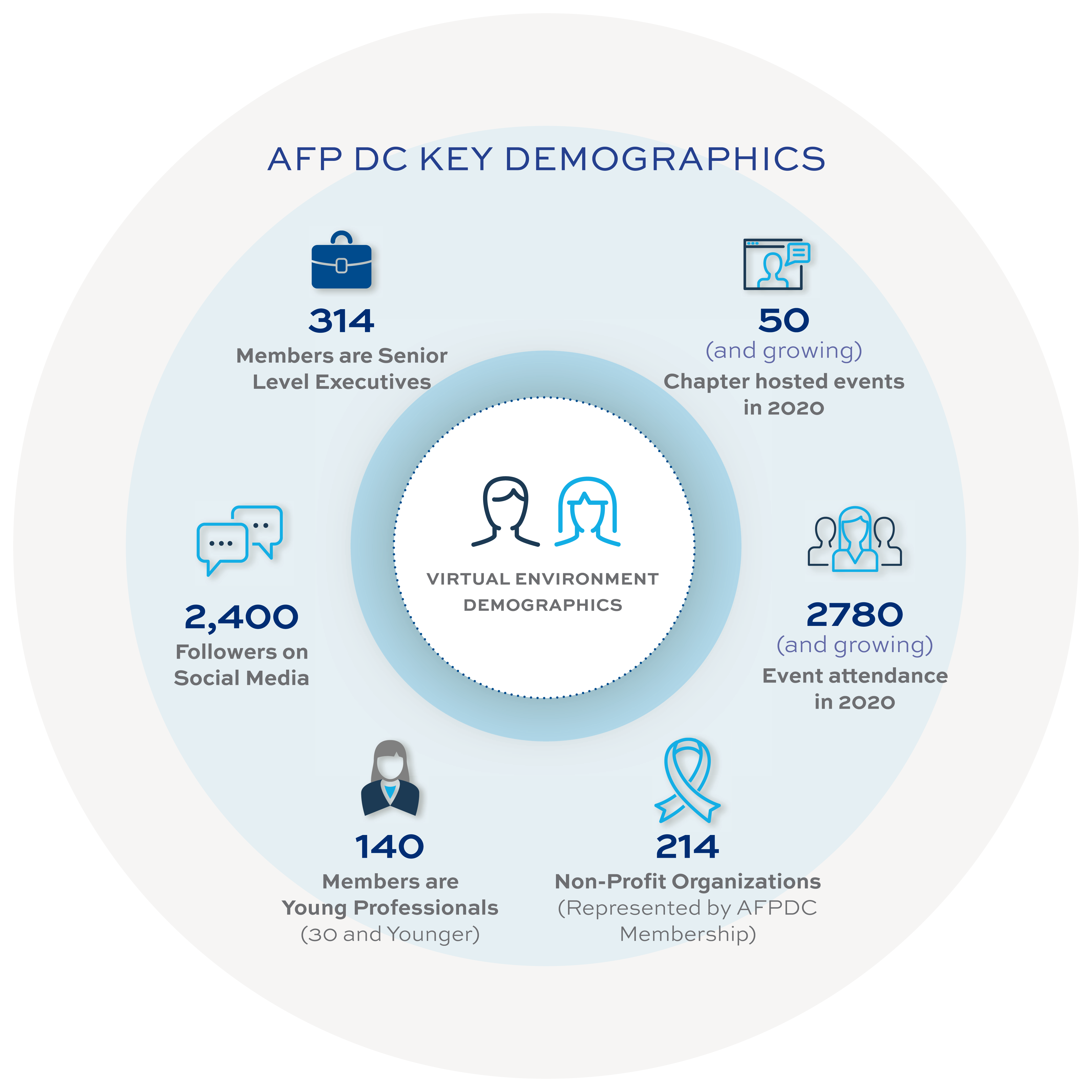 What We Do 
Education — We share industry-wide best practices, hands-on tools and techniques from philanthropists and experts and a robust calendar of educational events, webinars, and our Bridge to Integrated Marketing Conference.
Networking — We offer the ability to grow your professional network by creating opportunities to meet new people through our gatherings, events, committee work, and volunteer opportunities.
Peer-to-Peer Engagement — We facilitate peer-to-peer learning and engagement opportunities through committees and affinity groups, designed to bring together individuals from similar backgrounds as well as across sectors.
Accreditation Training — We help elevate the profession by providing accreditation training and recognition for the Certified Fund Raising Executive (CFRE). 
Career Advancement— We help the nonprofit community thrive by connecting fundraisers with new and exciting opportunities to make an impact in the sector.
Peer Recognition — We recognize outstanding achievement among professionals and philanthropists who are making a difference in our community.
For more information about AFP DC contact: 202.845.7450 | [email protected]