Successfully Engaging Board Members and Other Volunteers in Attracting Major Gifts(In-Person)
Steve Meyerson and Anthony Burchard have a combined six decades of experience as both fundraising consultants and chief development officers. During this session, they will share what works and what doesn't work in the world of volunteers and major gift fundraising and address current trends and best practices in using volunteers.
Learn how to expand your thinking of who can be an effective volunteer for your nonprofit, thereby significantly enlarging your major gift team. We will discuss roadblocks such as volunteer reluctance and other common reasons for volunteer inaction and how to effectively overcome them. Our session will review a host of strategies that will help attendees to inspire, train, structure, coach, and support volunteers to become actively engaged in cultivating and soliciting major gifts.  

Event Venue
1667 K Street NW
Washington, DC 20006
*Please check in at the front desk upon arrival
SPEAKERS:


Steve Meyerson, MBA, President, Aspire Nonprofit Partners
With over 35 years of successful experience with non-profit organizations, he has extensive experience in strategic planning and executing capital and endowment-building campaigns, cultivation and solicitation of major gifts, corporate support strategies, marketing, and planned giving programs. Steve has been a consultant since 2005, currently heading up Aspire Nonprofit Partners. Aspire provides a full range of resource development services, including fundraising performance coaching, and recruitment. He has consulted with dozens of local and regional nonprofits, conducting campaign feasibility studies, development audits, and other fund development support services. Formerly he was a Vice President at Inova Health System, serving as President of the Inova Health System Foundation for seven years. Steve has also held positions in marketing, planning and management at the community hospital level. Finally, he currently provides pro-bono counsel to several nonprofits in the area and NY.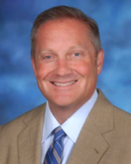 Tony Burchard, Senior Vice President, VHC Health System
President of the VHC Health Foundation
Anthony "Tony" Burchard brings 35+ years of experience advising and leading non-profit organizations. In his role at VHC Health, Tony is responsible for system-wide revenue growth, and oversees philanthropy, marketing, communications, community, and government relations. Before joining then Virginia Hospital Center in 2019, Tony served as Senior advisor for Philanthropy to Operation Smile, the Virginia Beach based non-profit that performs myofascial surgeries to some of the most underserved children worldwide. Prior to his time at Operation Smile, he served as the President of Inova Health Foundation, where he led a successful, multi-year campaign that raised more than $250 million in philanthropy and grants from patients, families, corporate, state, and local funding sources. Tony also has had the privilege to serve as Senior Vice President of Development & Communications for Project HOPE, an international health and humanitarian non-government organization, and Vice President of Ketchum, a strategic communications, and media relations firm.
Please visit Washington DC Coronavirus Health Guidance for Washington DC's COVID policy. 
REGISTRATION FEES
Members $25
Nonmembers $45
Please contact [email protected] for questions regarding this event.